Product Description
Use code gatemaster15 at checkout for 15% off.
The weld-in latch deadlock has a latch and deadlock on the single bolt. The handles operate the latch and the key can then be turned to extend the deadbolt 1 3/16″ (30mm) into the gate post to secure the gate.
Features:
Secure – Stainless steel latchbolt, which springs 1/2″ (13mm) into the gate post and then moves to 1 3/16″ (30mm) when you turn the key and deadlock the lock.
Adaptable – Latchbolt is adjustable in length for precise fitting on site and can be rotated for left or right-handed gates.
Strong – Welding the lock into the gate is the most secure method of fixing a lock into a gate.
Durable – Fitted with a brass latchbolt bearing to ensure long lasting, smooth action.
Supplied with gate post strike plate.
Handles sold separately. (We offer the AH handle set. See Related Products.)
Product Options:
SWLD1630 – 1 3/16″ (30mm) wide gate frames.
SWLD1640 – 1 1/2″ (40mm) wide gate frames.
SWLD1650 – 2″ (50mm) wide gate frames.
SWLD1660 – 2 3/8″ (60mm) wide gate frames.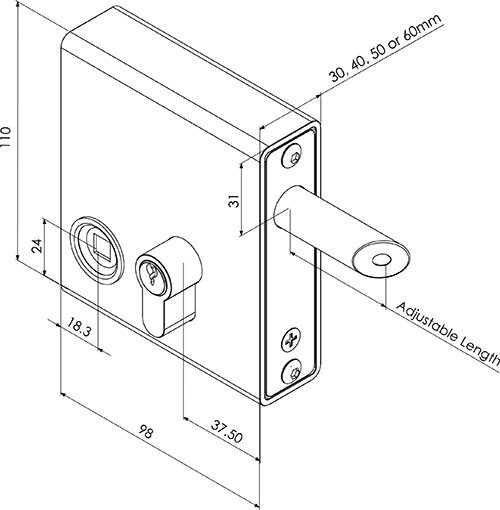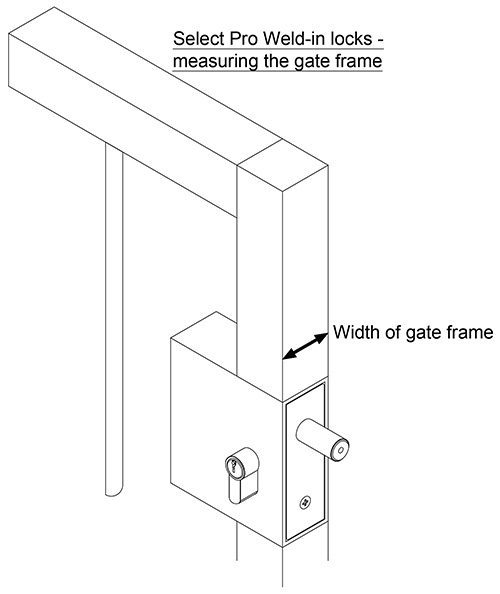 Installation:
Weld the lockcase to the gate and galvanize or paint as part of the gate.
Fit the lock and eurocylinder into the lockcase and secure with screws.
Weld the strike plate to the gate post and bend to provide a ramp for the latch to ride up.
Maintenance:
Every 2 months – Lubricate latchbolt with light oil.
Annually – Dismantle lock and spray mechanism inside with light oil.