Product Description

MagnaLatch Gate Latch Key-Lockable Side Pull Model Series 2 Installation Video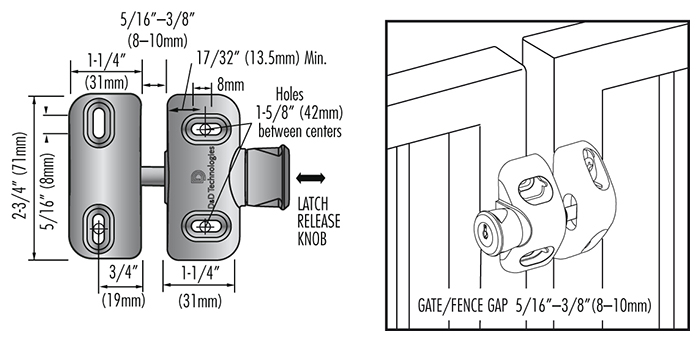 Key-lockable security. Peace of mind.
Following the tradition of safety, strength, and style set by the entire MagnaLatch range, this lockable model is ideal for use on both metal and wood gates around homes and gardens. It is also an ideal latch for swimming pool gates when installed in accordance to regulations.
This latch comes with vertical and horizontal adjustment of up to 3/8″ (10mm), which makes installation easier and allows fine-tuning of latch alignment well after installation.
Powered by the same super-strong "permanent magnets" as other MagnaLatch models, and made from strong engineering polymers and stainless steel components, it is designed for a lifetime of service.

Description:
Reliable latching action
Key-lockable
Adapts to all gates
Magnetically triggered (no jamming or sticking)
Quick & easy install
Features:
Key-lockable security: Peace of mind.
Vertically & horizontally adjustable: Overcomes ground movement and gate sag.
Strong, molded polymer & stainless steel: Won't rust, bind, sag, or stain.
Dress caps hide screws: Sleek, stylish appearance.
Specifications:
Gate gap:

3/8" (10mm); gap variance up to 3/4" (19mm)

Gate material:

Vinyl, Wood, Metal
Applications:
Swimming pool, pedestrian, and pet gates
Colours Available:
Installation Guide:



Key-lockable "Side Pull" Series 2 Installation Guide
Download the D&D Technologies Gate Hardware Catalog. | French version available.