Product Description

MagnaLatch ALERT Gate Latch Top Pull Model & Vertical Pull Model – Introduction by Laurie Lawrence

MagnaLatch ALERT Gate Latch Top Pull Model & Vertical Pull Model Installation Video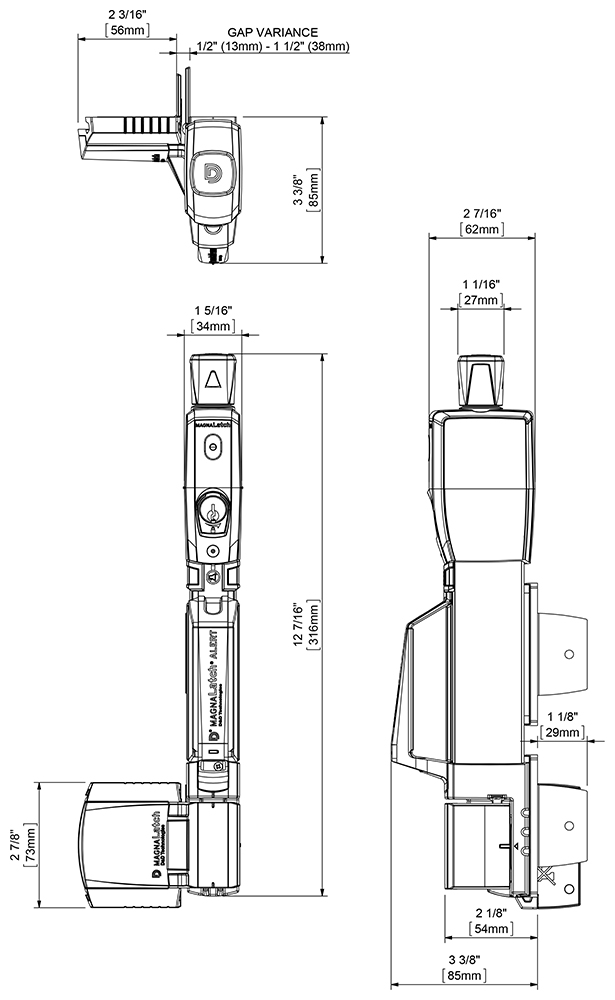 The world's first and only integrated safety gate latch and alarm!
The MagnaLatch® ALERT sets entirely new levels for safety gates around swimming pools, childcare centres, schools, homes, or wherever child safety is critical.
The MagnaLatch® ALERT offers dual electronic warnings: bright, flashing LED lights and an audible alarm that sounds if a gate is opened or left unlatched. So, you can see at a glance and hear from a distance if your gate is not secured.
The "Vertical Pull" model offers protection on pet security and general-purpose gates around the home and garden. A single beep upon opening warns of visitors or intruders.
The MagnaLatch® ALERT is the ultimate safety gate latch, and the ideal alert device for when you can't turn your back for a second.

Description:
NEW Visual unlatched alarm
NEW Audible unlatched alarm
At-a-glance Lock Indicator
Re-keyable lock for extra security & convenience
Magnetic latching always engages, can't jam
Easy installation, with no special tools
Fits to metal and wood gates
Trusted to protect toddlers for over 25 years
Includes battery, screws, keys, owner's manual, and installation instructions
Features:
Visual "unlatched" alarm:

Flashing LED lights give visual notification if the latch is opened and the gate is left unlatched.

Audible "unlatched" alarm:

Hear from a distance whether the gate is opened or left unlatched. A single beep on each gate opening will turn to full alarm after 15 seconds if the gate is left unlatched.

Safer, ergonomic lift knob:

With its new design, the lift knob is now more child resistant than ever.

Visible Lock Indicator:

Shows you at-a-glance whether MagnaLatch is locked or unlocked. Simple peace of mind.

Re-keyable Security Lock:

The 6-pin lock can be re-keyed to match other locks around the property, making safety more convenient.

Product traceability:

Proven superior quality manufacturing.

T-track innovation:

Both latch body and striker offer superior fixing strength and unsurpassed quality.

Built-in post cap spacing:

No more need for separate post cap spacers.

Industry leading magnetic technology:

Tested to 2 million cycles.

Easier adjustment:

The innovative vertical and horizontal adjustment makes MagnaLatch even simpler to install and adjust for ground shift or gate sag.

Permanent magnet sealed from the elements.

Alignment indicators:

Now you know when your gate is in proper alignment and makes adjusting for gate sag even easier.

Improved drainage in latch & striker:

Sloping feature channels water out.

High collar under light knob prevents water entry.

Industry's greatest gate/post movement tolerance.

Protective shroud:

Shroud over key helps prevent water entry into the lock cylinder.

Space under lift knob:

Helps prevent freezing to top housing.
Specifications:
For: 

Gates 60″ (1500mm) or higher

Gate gap:

 1/2″-1-1/2″ (13-38mm)

Gate material:

 Vinyl, Wood, Metal

Security: 

Key Lockable
Applications:
Child safety gates, pet security, general-purpose gates around the home and garden
Colours Available:
Installation Guide:



"Vertical Pull" Series 3 Installation Guide
Download the D&D Technologies Gate Hardware Catalog. | French version available.