Product Description
MagnaLatch Top Pull Installation Video
MagnaLatch Top Pull Installation Video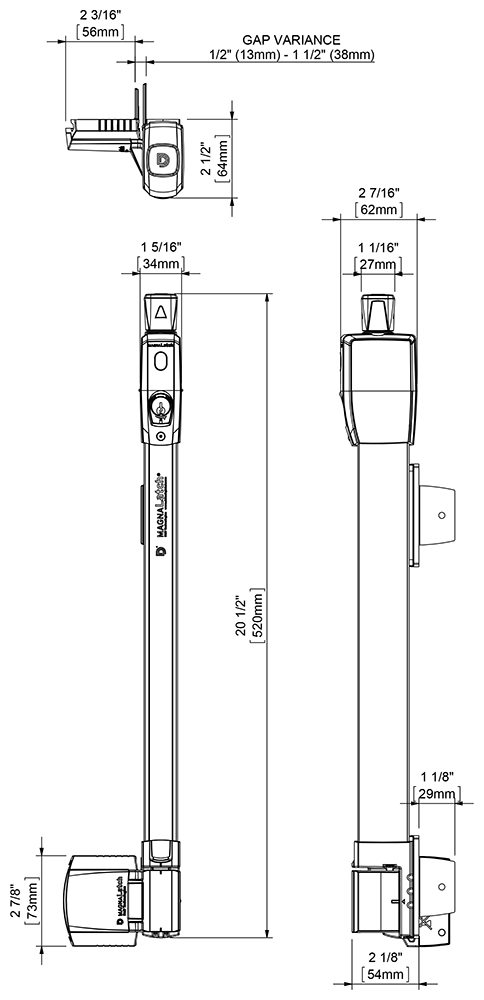 The world's most trusted safety gate latch!
It's impossible to keep an eye on kids all the time. That's why, for the past 25 years, millions of families have trusted MagnaLatch to keep children safe around residential and public pools, homes, childcare centres, and wherever safety is needed.
The new MagnaLatch Series 3 is the safest, toughest MagnaLatch yet.
MagnaLatch Series 3 includes a new visible lock indicator, 6-pin re-keyable security lock, vertical & horizontal alignment indicators, and much more. It's been tested to 2 million cycles and it's 50% stronger than before.
Simply put, it means you can recommend and install the new MagnaLatch Series 3 with confidence knowing that it's the world's #1 child safety gate latch.

Description:
Tested to 2 million cycles!
Up to 50% stronger!
Visual Indicator provides locked & unlocked status
6-pin re-keyable security lock
Vertical & horizontal alignment indicators
Superior performance in extreme climates
Industry's greatest gate/post movement tolerance
Innovative vertical & horizontal adjustment
T-track for superior fixing strength
Lift knob is more ergonomic and child resistant
Industry leading magnetic latching technology
Features:
Safer, ergonomic lift knob:

With its new design, the lift knob is now more child resistant than ever.

Visible Lock Indicator:

Shows you at-a-glance whether MagnaLatch is locked or unlocked. Simple peace of mind.

Re-keyable Security Lock:

The 6-pin lock can be re-keyed to match other locks around the property making safety more convenient.

Product traceability:

Proven superior quality manufacturing.

T-track innovation:

Both latch body and striker offer superior fixing strength and unsurpassed quality.

Built-in post cap spacing:

No more need for separate post cap spacers.

Industry leading magnetic technology:

Tested to 2 million cycles.

Easier adjustment:

The innovative vertical and horizontal adjustment makes MagnaLatch even simpler to install and adjust for ground shift or gate sag.

Permanent magnet sealed from the elements.

Alignment indicators:

Now you know when your gate is in proper alignment and makes adjusting for gate sag even easier.

Improved drainage in latch & striker:

Sloping feature channels water out.

High collar under light knob prevents water entry.

Industry's greatest gate/post movement tolerance.

Protective shroud:

Shroud over key helps prevent water entry into the lock cylinder.

Space under lift knob:

Helps prevent freezing to top housing.
Specifications:
For:

Gates 48″ (1220mm) or higher

Gate gap:

1/2″-1 1/2″ (13-38mm)

Gate material:

Vinyl, Wood, Metal
Applications:
Swimming pool and child safety gates
Colours Available:
Installation Guide:



"Top Pull" Series 3 Installation Guide
Download the D&D Technologies Gate Hardware Catalog. | French version available.