Product Description

Magna-Latch Gate Latch Side Pull Model Series 2 Installation Video 1

Magna-Latch Gate Latch Side Pull Model Series 2 Installation Video 2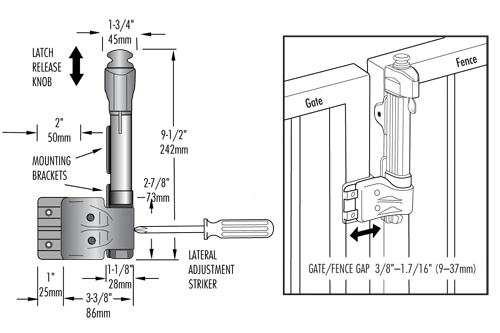 Description:
– Ideal general-purpose, magnetic latch for gates around homes and gardens.
– Suitable for a wide variety of uses where a non-key lockable latch is needed.
– Super strong permanent magnets never lose their power.
– Reliable, effective, and unobtrusive.
– Adjusts horizontally and vertically.
– Quick and easy to install.
– When used on picket-style swimming pool gates, a compliant acrylic shield must be used to prevent latch access by toddlers.
– Consult local authorities for height measurement/requirements on swimming pool gates.
Features:
– Patented magnetic self-latching
– Quality molded polymers and stainless steel
– Dress caps hide screws
– Engineered for ease of installation
– Will not disengage from shaking and pulling
– Magnet is sealed from the elements
Benefits:
– No mechanical jamming during closure
– No rusting, binding, or staining
– Stylish appearance
– Reduced installation time (costs)
– Exceptional safety and reliability
– Can't be forced open
– Magnet will not rust or corrode
Applications:
– General-purpose gates
Colours Available:
– Black
– White (Special Order)
Installation Guide:



"Side Pull" Installation Guide
Download the D&D Technologies Gate Hardware Catalog. | French version available.