Product Description

Lokk-Latch Gate Latch Series 2 Installation Video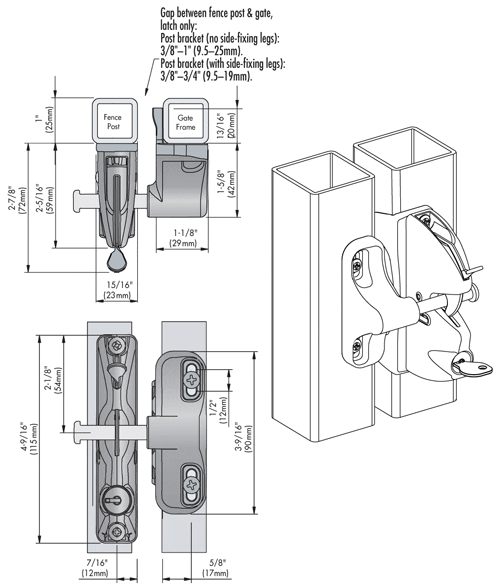 Description:
– A quality yet affordable pedestrian gate latch for general-purpose gates around the home.
– Takes a radical new approach to the gravity latch principle: combines the unique benefits of key lockability and reliable latching action with superior design and rust-free components.
– High-tech, stylish appearance.
– Adjusts horizontally and vertically.
– One model fits metal, vinyl, and wood.
– Will not rust or corrode.
Features:
– Tough, polymer construction
– Key lockable latch
– Stainless steel tongue
– One versatile model
– Quality Assurance ISO 9001 manufacturer
– Engineered for easy installation
– Optional "External Access Kit"
Benefits:
– Strong and 100% rust-free
– No padlock required
– Smooth, reliable latching action
– Fits all gate materials
– Limited Lifetime Warranty
– Quick and easy to install
– Open latch from outside the gate
Applications:
– General-purpose gates
Colours Available:
– Black
– White (Special Order)
Installation Guide:



LOKK-LATCH Installation Guide
Download the D&D Technologies Gate Hardware Catalog. | French version available.