Product Description
Tilt-Lock Stainless Steel Adjustable Square Standoffs Installation Video
This item is a CLEARANCE special. 
Only 627 pcs left!
All CLEARANCE items are FINAL SALE!
Subject to the following patent: US8641343B2.
Adjustable Standoffs for structural glass railings:
Allow easy and precise vertical alignment of glass panels.
No need for shims or extra washers.
No need to remove glass panel in order to add extra washers.
No need to bend glass panels in order to line them up using glass caps or handrails.
After glass panel is set in place, it can be vertically aligned from the face side using Allen key.
Individual standoffs can extend up to 1/4″, which translates into a few inches of adjustability at the top of the glass.
Material is Duplex 2205 grade stainless steel. Satin finish.
Standoff has diameter (D) 1 1/2″ and length (L) 2″.
Use 1/2″-13 fasteners for mounting.
Recommended glass size is 1/2″.
Recommended hole size for glass is 3/4″ to a max of 7/8″.
Recommended spacing is 6″ off edge of glass and 24″ center-to-center.
Matte Black finish.
Engineering available.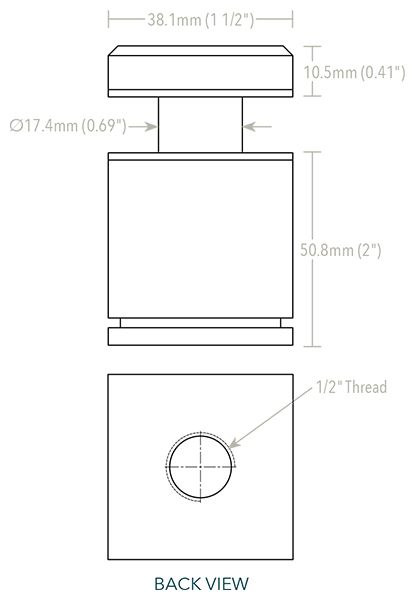 Click here to download the Adjustable Square Standoffs Installation Guide.