Product Description

Tilt-Lock Edge Mount Spigot Installation Video
Features:
Made of duplex 2205 low carbon ultra marine grade stainless steel, allowing for superior corrosion resistance as well as more than double the yield strength and 20% more tensile strength than 316 grade stainless steel.
Highly suitable for use in outdoor structures with high degree of corrosion due to chlorine and/or sulphur dioxide load; high humidity; accumulation of harmful substances (e.g., coastal regions and swimming pool environments).
Suitable for 12-17.52mm glass.
Allows for glass to be tilted 2° backward or forward.
All adjustments can be achieved from one side.
Pressure plate model.
Optional finish cap package (2 pcs.) SSSPIGOTCAP available.
Fully engineered for the National Building Code of Canada.
Canadian patent application no. 2,962,407.
U.S. patent application no. 15/024,903.
New Zealand patent no. 700501.
European, UK, Australian, Chinese patents pending.
Optional fastener package available: SSSPIGOTBOLT.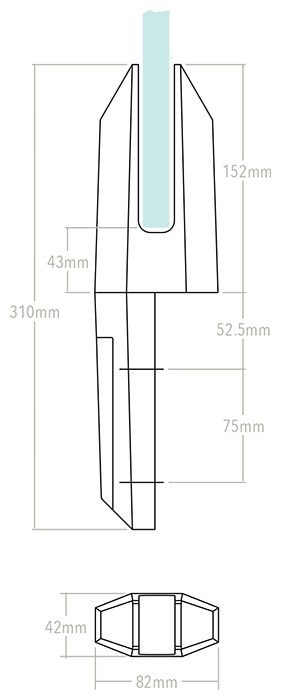 Download our Tilt-Lock™ Brochurehere.
Download our Drawing & Installation Instructions.
For more technical information on Stainless Steel Grades and tips on Cleaning and Maintenance, click here.
DISCLAIMER:
For anyone using power wash to clean your pool environment, please be aware that chlorine, dirt, and other particles will likely get sprayed onto the spigots during the cleaning process. To ensure that the residue left on the spigots does not remain and to avoid possible contamination with the stainless steel material, please remember to clean the spigots. You can use soap or a mild detergent and warm water followed by a clear hot water rinse.