Product Description
Use code gatemaster15 at checkout for 15% off.
This bolt-on latch deadlock has both the convenience of a latch and the security of a deadlock. For day-to-day use, the handles operate the latch and this latch can then be deadlocked by turning the key.
Features:
To fit 1/2″-1 1/4″ (10-30mm) gate frames.
Can be slammed shut and deadlocked for extra security; stainless steel latchbolt latches 5/8″ (15mm) into gate post and moves to 1 1/4″ (30mm) when deadlocked.
Lockcase is only 2 3/4″ (70mm) wide – slimmest bolt-on lock in the market; adaptable lock design suits a variety of gate styles.
Easy to fit and use wtih adjustable and removable bolts to ensure easy fitting to gates.
Supplied with black lever handles; universally handed – simply twist the latch and tighten the screw.
Full removable latchbolt for installation; latchbolt is adjustable in length for precise fitting on site and can be rotated for left or right-handed gates.
Supplied with bolt support plate and gate post strike plate; guide plate with brass bearing ensures durability.
No counterbore holes required – simply bolt straight through the box section, meaning no chance of losing fixing screws in the gate.
Use with the Superlock Secure Keep to increase security and product life.
Product Options:
BLD1030S – 1/2″-1 1/4″ (10-30mm) gate frames.
BLD4060S – 1 1/2″-2 1/4″ (40-60mm) gate frames.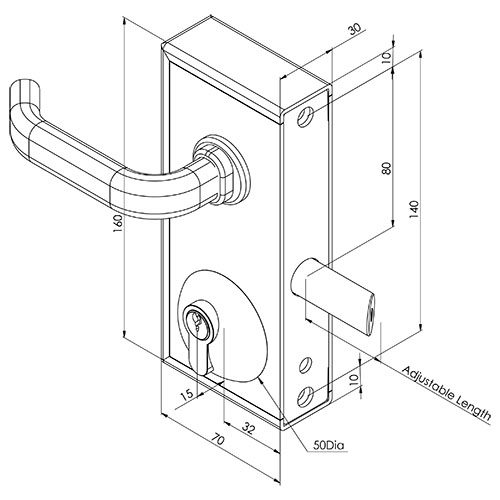 Installation:
Drill 2 x 3/8″ (9mm) holes at 5 1/2″ (140mm) centers for fixing bolts provided.
Drill a second 3/4″ (18mm) clearance hole for latchbolt at 2 3/8″ (60mm) centers up from the bottom fixing hole.
Hold the lock against the back of the box section and screw the latchbolt through the bottom 3/4″ (18mm) hole.
Lock the latchbolt and deadbolt with the hex key supplied by inserting the hex key into the end of the latchbolt and deadbolt.
Fix lock in place using the stainless steel bolt support plate and the countersunk screws provided. Ensure the latchbolt and deadbolt move freely.
Fix strike plate by either welding or screw fixing onto the gate post.
Maintenance:
Every 6 months – Lubricate latchbolt and deadbolt with light oil.
Annually – Dismantle lock and spray mechanism inside with light oil.