Product Description
The new Gatemaster Superhinge is one of the most durable gate hinges in the range, tested to multiple openings on a large gate with no wear. It incorporates brass bearings within the hinge, which ensure a smooth action and guarantees the product will withstand the test of time.
Features:
Sold individually (one piece).
Strength-tested – Suitable for all gates up to 150kg for one pair of Superhinges.
Long-lasting – Tested to 500,000 openings with no wear, equivalent to 50 years at an average of 25 openings a day!
Durable – Low friction, ideal for use with automated gates.
Adjustable – Adjustable bolt for precise gate fitting on site.
Product Options:
SH16 – M16 x 100mm / Gates up to 150kg.
SH20 – M20 x 125mm / Gates up to 300kg.
SH25 – M24 x 150mm / Gates up to 450kg.
SH30 – M30 x 200mm / Gates up to 900kg.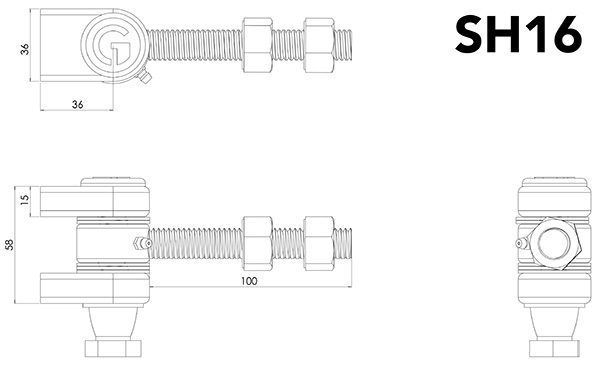 Installation:
Disassemble the two self-colour lugs from the hinge and weld in position to the gate post.
Drill a hole through the gate frame to suit the thread size.
Once the gate has been galvanized or painted, assemble the hinge and use the 2 nuts to adjust the position of the gate.
Maintenance:
Lubricate during fitting and once every 6 months to ensure maximum product life.