Product Description
Glass Channel Kit Installation Video
NOTE: These channel kits must ship via Transport.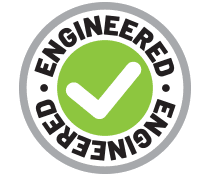 Features:
Tested and certified based on applicable codes/standards: OBC 2012 section 4.1.5.14 "Loads on Guards", and 4.1.5.16 "Loads on Walls Acting as Guards", CAN/CGSB 12.20-M89.
Packed as a 12 ft. kit, including top and bottom Satin Anodized Aluminum channels, end caps, and gaskets.
Designed for top and side mount applications.
Easy installation with removable cover.
Full-frame glazing (4 sides) possible.
Suitable for 12mm glass interior residential and commercial applications.
Download our Installation Instructions.
To inquire about Engineering, please contact: engineering@euroeac.com