Product Description
Use code gatemaster15 at checkout for 15% off.
The Superlatch digital latch lock is a convenient solution for timber and metal gates. With no power needed, simply drill 3 holes and install the latching mechanism on the inside of the gate, then fit the 14-digit keypad on the outside with the fixings supplied. (Strike plate included.)
Features:
No power needed – Mechanical keypad lock.
Corrosion-resistant – Marine grade keypad and powder coated stainless steel latch.
Built to accommodate the swelling of wooden gates during the wet season.
Reversible handing – Can be used on left or right hand gates.
Auto-latching – Close the gate and the latch catches onto the strike plate. To open the gate – from outside, enter the code and turn the handle; from inside, simply twist the latch.
A great alternative to a standard digital lock with tubular latch.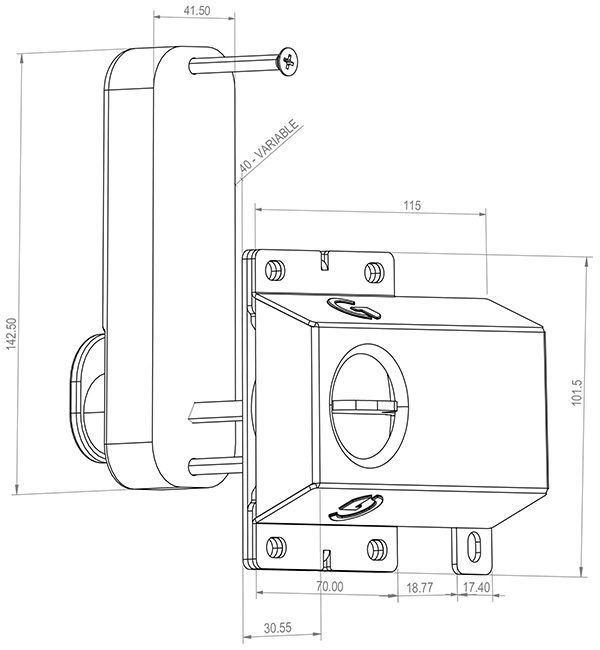 Installation:
Drill 2 x 5mm diameter holes at 130mm centres in a vertical line 50mm from the edge of the gate.
Drill a 3rd hole 12mm diameter, 18mm up from the bottom hole.
Fix the outside keypad using 2 x M5 countersunk screws.
Insert the rectangular spindle though the gate and fully into the keypad. Cut the spindle so it projects 13mm from the inside face of the gate.
Locate the Superlatch backing plate, latch plate and shroud over the spindle and fix with 4 screws.
Fix the keep plate to the gate post so it engages with the latch.
Maintenance:
General: Lubricate with light oil periodically.
Every 6 months:
Remove keypad from the gate.
Spray the inside of the lock thoroughly with WD40 or equivalent through the tumbler holes at the back of the lock.
Spray all the fixing accessories and the latch with WD40 or equivalent.
Push each of the buttons and rotate the knob several times to make sure that the lock is working smoothly.