Product Description
FLO-ROK® FR5 MAX is a styrene-free epoxy acrylate adhesive suitable for year-round use without pre-conditioning in temperature ranging from -10°C to over 30°C. This versatile two-component, high-strength anchoring adhesive provides stress-free fastening and is an excellent choice for anchoring and dowelling. A matching static mixing nozzle as well as FLO-ROK®'s low mix ratio sensitivity ensures thorough, 10:1 mixing of the resin and the hardener. FLO-ROK® FR5 MAX anchoring adhesive is specifically formulated for continuously threaded steel rod and deformed steel reinforcing bar anchoring to resist static, wind, or earthquake (Seismic Design Categories A through F) tension and shear loads in cracked and uncracked, normal-weight concrete having a specified compressive strength, f 'c , of 2,500 psi to 8,500 psi (17.2 MPa to 58.6 MPa). The FLO-ROK® FR5 MAX adhesive anchors are designed to be used for floor (vertically down), wall (horizontal) anchoring applications.
Features:
IAPMO – ER0490.
ACI 318 Category 1 anchor (continous spec. inspection) for cracked & uncracked concrete.
Tested in accordance to AC 308 for long term sustained load at standard and elevated temperature.
Seismic resistance.
User friendly, low odour, styrene free & MMA free.
Meets LEED guidelines; low VOC.
Moisture insensitive, non sag formula.
Suitable for damp and water filled holes.
Shelf life 1 year, store cartridge at +5°C to +25°C before use.
Meet CSA A23.3-14, Annex D requirements.
Size: 10 oz. cartridge for small jobs.
Dispensing tool (PA100) sold separately. See Related Products.
Typical Applications:
Rebar dowelling.
Highway and bridge construction.
Machine, crane, and hoist installation.
Hollow wall anchoring applications.
Renovations.
Concrete Applications with Our Products:
Base Shoe.
Spigots.
Standoffs.
Approvals/Listings:
IAPMO – ER0490.
2015,2012.2009,2006 International Building Code (IBC).
2015,2012.2009,2006 International Residential Code (IRC).
MTO MI 120 Approved.
MTQ Approved.
Limitations:
FLO-ROK® is not recommended for overhead applications.
Store cartridge at +5C° to +25C° before use.
Installation: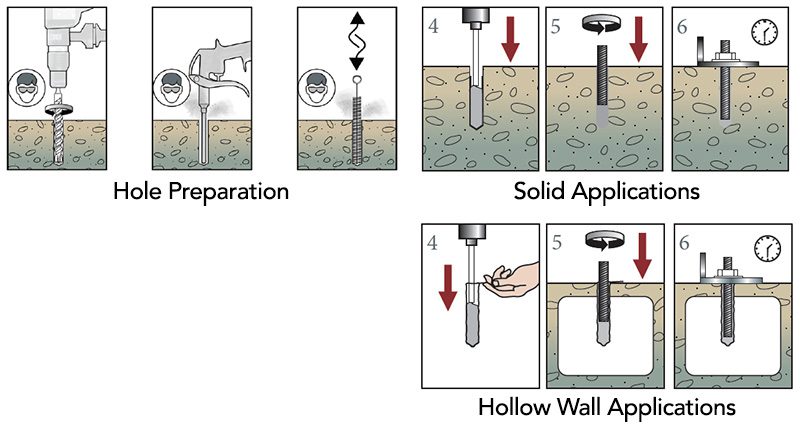 Epoxy Usage Estimating Table: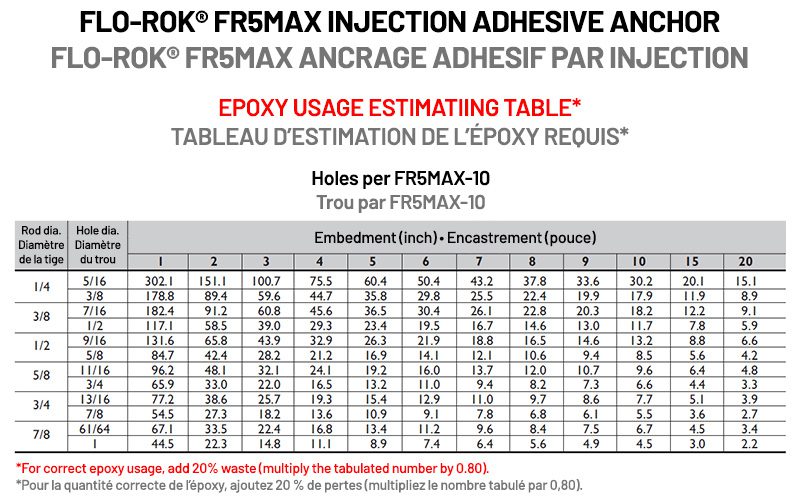 CLICK HERE to use a volume calculator.
Steps:
Select FR5 on the left.
Select FR5-10 MAX (10 oz) on the left.
Select Target Material: Concrete or Hollow Wall.
Following remaining steps to make your selections.
Click Submit.
Confirm submission.
The recommended cartridge number for your project will appear on the screen.
FLO-ROK® FR5MAX Epoxy Vertical Down, Dry Hole in Solid Concrete Installation Video
FLO-ROK® FR5MAX Epoxy Hollow Concrete Block Wall Installation Video