Product Description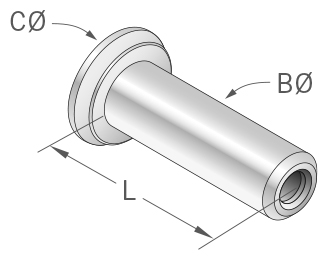 | | | | | | |
| --- | --- | --- | --- | --- | --- |
| PART # | CABLE Ø | C Ø | B Ø | L | DRILL Ø |
| SSCBQC18 | 1/8″ | 5/8″ | 3/8″ | 1 1/8″ | 3/8″ |
Fits into a hole drilled in end post, and the lip rests against the outside post face.
Design allows the cable to pass entirely through the fitting in one direction only; any excess cable is trimmed.
Can be paired with any Tension Adjustment Fitting.
Use Quick-Connect®SS and tension adjustment fittings to attach CableRail® to posts or walls, angled surfaces, and more.
Automatic Locking Jaw Technology makes inserting CableRail® into the fittings simple. Just insert the cable into the fitting and it locks automatically, without the need for compression fittings or crimp tools.
Quick-Connect® fittings are made from high-quality 316 marine grade stainless steel for a cable railing system that will look amazing and last a long time.
Use beveled washers for angled stair termination and flat washers for added bearing surface on wood posts.
Use the enclosed stainless steel flat washer for wood posts or the nylon flat washer for metal posts.
Exposed end is covered with coloured or stainless end caps.
Click here to download the CableRail® brochure.
Additional Information:
Recommended Drill Hole Chart


End Post A
Intermediate Posts B
End Post C
Fitting
Drill Ø
DrillØ
Drill Ø
Fitting
1/8″ Quick-Connect®SS
3/8″
1/4″
5/16″
1/8″ Threaded Terminal