Product Description

Gate Handle Installation Video 1

Gate Handle Installation Video 2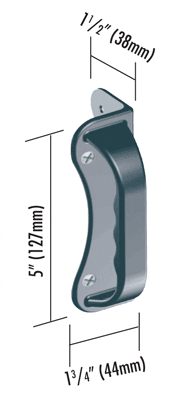 Description:
– A general-purpose device designed to fit all types of gates and gate materials.
– Offers convenient gate opening and closing on virtually all commercial and household applications.
– Features strong, glass-reinforced polymer construction, modern ergonomic design, and is guaranteed against rusting and staining.
– Fits left-hand and right-hand opening gates.
Features:
– Tough, molded polymers
– Ergonomic, stylish design
– Symmetrical design
– Reversible
Benefits:
– Durable; no rusting or staining
– Comfortable and functional
– Fits left-hand and right-hand openings
Gate Material:
– Vinyl, Wood, Metal
Colours Available:
– Black
– White (Special Order)
Installation Guide:



GATE-HANDLE Installation Guide
Download the D&D Technologies Gate Hardware Catalog. | French version available.