Product Description
This item is a CLEARANCE special. 
All CLEARANCE items are FINAL SALE!
CrobialCoat Antimicrobial Coating combines the durable protection of ProtectaClear with Microban Antimicrobial technology.
Antimicrobial Product Protection
CrobialCoat is a durable, clear protective coating that provides protection for most surface rust, salt damage, tarnish, corrosion, and oxidation. CrobialCoat has built-in Microban Antimicrobial technology for an added level of protection against the growth of microbes. It is our most durable and scratch-resistant coating. Ideal for high-touch surfaces where cleanliness matters; for example, door handles, light switches, railings, sinks, hardware, and more. CrobialCoat will seal and protect polished metal, stainless steel, and more to prevent tarnish and protect the finish. CrobialCoat has a tough and durable finish that is practically invisible and provides outstanding protection.
A 1 quart (32 oz.) bottle of CrobialCoat Antimicrobial Coating will protect about 250 sq. ft. single coat.
Includes:
32 oz. CrobialCoat.
Applicator.
Nitrile gloves.
Complete written instructions.
On an untreated surface, the bacteria reproduce rapidly.
On a Microban treated surface, the bacteria struggle to survive and are reduced by up to 99.9%.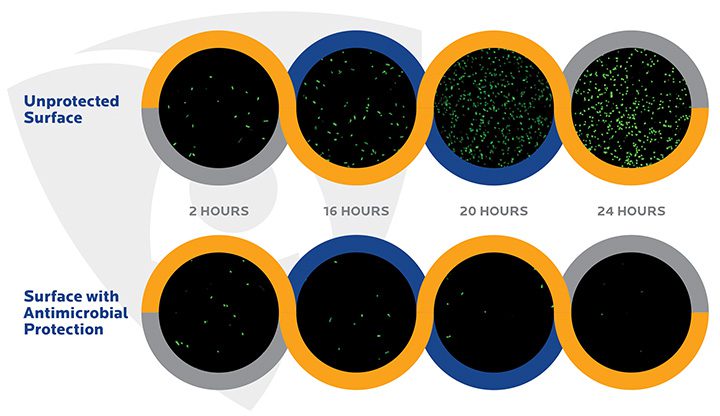 CrobialCoat will actively reduce the growth of bacteria 24/7 and for the expected lifetime of the coating.
Combines the tough protection of ProtectaClear® with the antimicrobial product protection of Microban®, keeping coated surfaces 99% cleaner by inhibiting the growth of bacteria and microbes.
Clear coating specifically designed for protection of metals (even highly polished metals), ceramics, hard plastic, and hardwoods.
Ideal for use in high-touch environments where cleanliness matters such as schools, hospitals, kitchens, and restrooms in both home and commercial environments.
Will not wash off – antimicrobial protection remains effective for the life of the coating.
Surfaces stay cleaner longer, show less fingerprints, and are much easier to maintain with less effort and time.
Helps prevent odours due to odour-causing bacteria.
Sealed surfaces clean easily with mild soap and water.
Contains powerful antioxidants to protect against tarnish, oxidation, and corrosion.
Remains flexible – will not crack, chip, peel. or discolour.
Self-levelling and self-annealing – blends to itself, making touch-ups easy. Easily adds an extra layer of antimicrobial protection to surfaces already coated with ProtectaClear® without additional prep.
One-part coatings – no mixing or waste.
Suitable for marine and ocean environments – highly salt-resistant.
Excellent adhesion – even to highly polished metals.
Not recommended for use on soft plastic, rubber, or silicone.

Download the Instructions here.
Difference Between Antibacterial and Antimicrobial
What is antibacterial?
You have probably heard of antibacterial more often than antimicrobial as the former term is more commonly known. Products and solutions containing antibacterial properties are effective in killing bacteria and inhibiting the growth of common viruses such as E.Coli and MRSA. Although antibacterial solutions are effective in combatting against a number of harmful bacteria, they fall short when it comes to surface protection in common areas. Antibacterial solutions do not offer protection on such surfaces where further microorganisms and fungi are found.
What is antimicrobial?
Antimicrobial products and solutions provide an additional level of protection compared to antibacterial. Antimicrobial solutions kill and destroy the growth of microorganisms, fungi, or protozoans as well as bacteria. Not only will an antimicrobial solution work to provide integral protection against microbes, but it will also increase the lifespan of your space or product.