Product Description
This item is a CLEARANCE special.
Top Rail (SSDS1030104S) included with kit. Top Rail Diameter: 25mm / Thickness: 2.6mm / Length: 9.843 ft.

Only 2 kits left!
All CLEARANCE items are FINAL SALE!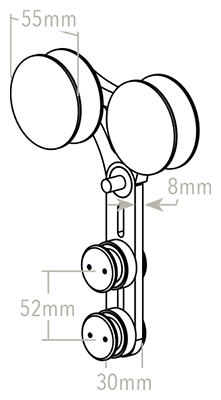 Double Roller Kit:
Holds up to 200kg (441 lbs.).
Glass hole size is 27mm.
2 per kit.
Accessories Included:
Track Connector
– 4 per kit
Floor Guide
– 1  per kit
Stopper
– 2 per kit (1 left + 1 right)
End Cap
– 2 per kit
For information on how to calculate the Glass Weight, click here to see the reference tables and sample calculation.